Our Team
Kitsap Veterinary Hospital's experienced support staff strive to provide personalized, compassionate care for our patients and clients alike.
Customer Service Specialists
Kathy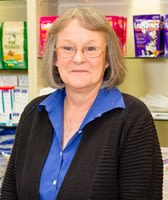 Kathy is truly a pillar at Kitsap Veterinary Hospital as she has been with us since 1999. Because she was born, raised and has lived in Port Orchard her whole life, you can always count on her to know you and your family, greeting you by name, making you feel welcome. She and her husband Lenn have raised two boys they are very proud of, "good kids". In addition to enjoying a gentler hobby of cross-stitch, you can often find her at the ocean amongst the big kite flyers, or reading or watching "who done it" stories and camping with the family. Her humor and unexpected jokes have earned her the nickname of Trouble here at Kitsap Veterinary Hospital. With the kids grown, she and Lenn share their home with their springer spaniel, Delilah.
Leah
Leah joined us in 2016 and we have been thrilled to have her! Leah has 2 cats, Sadie and Zoe along with 1 dog, an English Bulldog/Schnauzer named Max. Her favorite part of veterinary medicine is saving lives and she hopes to go to school to become a Licensed Veterinary Technician. Leah was adopted as a teenager and feels she can relate to what pets must feel when we adopt them! When not helping to save furry lives, Leah enjoys DIY projects, reading, hiking, sporting events and exploring.
Susan
Susan is originally from Florida. She has had a passion for animals every since her first puppy, Frisky. She takes great pride in the customer service she provides. She believes the pet's best interest is always the number one priority and goes out of her way to make them feel welcomed along with their owners. She enjoys her free time with her husband and their dog Rascal. She has many interests such as photography, gardening, traveling, football, long walks, theater, cooking/baking, crafts, snowmobiling and keeping in touch with family and friends. Her smile and laugh are contagious! Her motto is "dance in life, enjoy it to the fullest".
Michael Nadeau
Hospital Manager
Mike joined Kitsap Veterinary Hospital in February 2018. He attended Michigan State University and earned a degree in Fisheries and Wildlife Management. After working for and managing the MSU Wildlife Toxicology Laboratory for 10 years it was time for a change. In 2016, he and his wife Justine moved to the Kitsap Peninsula from Michigan. She is a Veterinarian at another local hospital in Silverdale, WA. They live in Port Orchard with their son Jaxon born in 2017. They also have 2 dogs; the American Bulldog Lucy and the French Bulldog Lola.
When not at the hospital, he enjoys spending time with his family, and their dogs. As a family they enjoy everything the Northwest has to offer including: hiking, biking, backpacking, camping, kayaking, fishing, and anything else outdoors.