Our Veterinarians
The Kitsap Veterinary Hospital team of skilled veterinarians welcomes you to our practice. Proudly serving the Port Orchard area. At Kitsap Veterinary Hospital, it is our daily privilege to provide quality vet care to your cherished pet, with compassion and competence. We hope to ensure a positive impact on our patients, pet owners and the local community.

Dr. Nancy Taylor
Dr. Nancy Taylor is happy to be joining Kitsap Veterinary Hospital as the new managing medical director as of July 2017. Dr. Taylor received her Doctorate in Veterinary Medicine from Tufts University School of Veterinary in 1992. She practiced for a few years and then returned to Tufts to complete a residency in Emergency and Critical Care in 1999. Prior to graduate school, Dr. Taylor earned her Bachelor of Science degree in Nursing from Hartwick College in Oneonta, NY.
Dr. Taylor has a passion for cardiology and emergency medicine. She has also developed a strong interest in dermatology and nutrition as she has come to recognize the need in her patients.
Dr. Taylor originally hails from Ohio until the time she went to college and stayed mostly in New England until completing her residency. She moved to the Pacific Northwest in 1999. Dr. Taylor lives with her 4-legged family formed by Mikey her happy Australian Shepard and Polly her multi-toed mischievous cat.
In her spare time, Dr. Taylor likes to make quilts as she loves the interplay of colors and feels this helps her develop the left side of her brain. She has also been seen on stage in the past in Gig Harbor's local theater and hopes she will find the energy and time to again pursue the arts.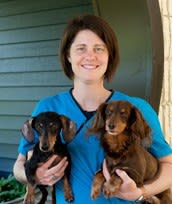 Dr. Sarah Buck
Dr. Sarah Buck joined Kitsap Veterinary Hospital in May 1999. Dr. Buck received her Doctorate in Veterinary Medicine from Washington State University's College of Veterinary Medicine in 1999, where she graduated magna cum laude. Prior to graduate school, Dr. Buck earned her Bachelor of Science degree in Biological and Animal Science from UVM in Burlington, Vermont.
Dr. Buck is originally from Vermont, where she lived for 21 years. She moved to the Pacific Northwest in 1994 and worked as a veterinary technician for one-year, which confirmed her decision to attend Veterinary School. Dr. Buck is married to Andrew King, and they have two boys and two young and active cats adopted from the Kitsap Humane Society. Dr. Buck lost four geriatric pets in 2015: two mischievous miniature dachshunds who lived to be 14 and 15 years of age and two cats who lived to be 20 and 21 years of age and went through veterinary school with her. They all hold a special place in her heart. This experience has given her a new appreciation and understanding of aging pets and their special needs.
In January 2004, Dr. Buck formed a partnership with Dr. Christman as co-owners of Kitsap Veterinary Hospital. Upon Dr. Christman's partial retirement in 2011, Dr. Buck became our Medical Director. Dr. Buck enjoys spending time with her family watching her boys play baseball and soccer. She also is an avid runner and someday, when the boys are grown and on their own, she plans to have dogs again.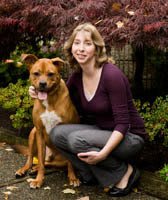 Dr. Christina Lock
Dr. Lock received her Doctor of Veterinary Medicine degree from Washington State University College of Veterinary Medicine in May 2008. She has a special interest in general practice, internal medicine, cardiology and oncology.
Prior to attending veterinary school, she graduated from Washington State University in 2001 with a Bachelor of Science degree in Animal Science with an emphasis on veterinary medicine. In 2004, she graduated from Pierce College with an Associate's Degree in Veterinary Technology and became a licensed technician.Dr. Lock worked at Kitsap Veterinary Hospital before she returned to college to become a veterinarian.
Dr. Lock grew up primarily in Seabeck, Washington, having moved to Washington in 1986 with her family when her dad was transferred to the west coast by the U.S. Navy. When not working hard to care for her patients she enjoys reading and spending time with her dedicated canine companion, Bugsy.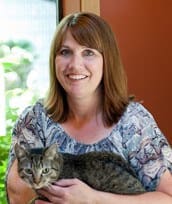 Dr. Kelly Hoover
Dr. Kelly Hoover's early love of animals was reflected in her high school job as a Ward Nurse at Kitsap Veterinary Hospital. After graduating from Washington State University's College of Veterinary Medicine in 1998, she spent the first seven years of her career in Bothell, Washington. She moved back to Gig Harbor in 2006 and has completed the journey home by joining Kitsap Veterinary Hospital once again, this time as a veterinarian experienced in small animal medicine, general surgery and dentistry. She finds the most joy in bonding with her patients and their families and sharing in their journey through all the phases of life.
When away from the clinic, Dr. Hoover enjoys spending time with her husband and their three children. They share their home in the country with their Llewellin Setter Ruby, and three cats, Herbie, O'Malley and Ruckus. The whole family enjoys exploring the Northwest's camping and fishing destinations, often starting the camping season before the last snow falls.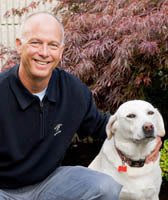 Dr. Denny Christman
Dr. Christman is a Washington State native who received his Doctorate in Veterinary Medicine from Washington State University's College of Veterinary Medicine in 1978 and his Bachelors of Science in Microbiology from the University of Washington in 1974. Dr. Christman's special interests and advanced education include soft tissue and orthopedic surgery, internal medicine, nutrition and dentistry. After many years of dedicated, long hours, Dr. Christman has reduced his schedule to focus on the surgical side of the practice for established patients. Dr. Christman is a dedicated family man and we are glad he will be able to spend more time with his wife of 35 years, Andrea and their children and grandchildren. He is a passionate biker, skier and all around outdoor enthusiast, now he will have a bit more time to enjoy these pursuits.